Boarding
All boarding services are suspended until further notice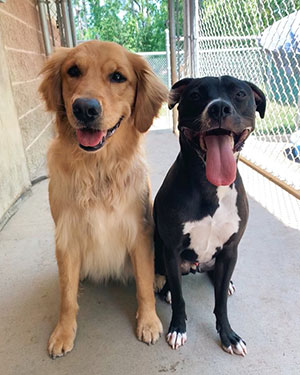 Dog Boarding
We have 20 runs and several large, medium and small cages to accommodate every pet. Each dog will get outdoor time in our fenced outdoor area multiple times a day. Our kennel is also air-conditioned for the summer months and heated for the winter.
Cat Boarding
We know how stressful trips away from home can be for our cat friends. We have a beautiful cat boarding area in our facility dedicated to cats to fit their needs. The room is climate controlled, peaceful, and yet stimulating to our kitty friends. Our visitors greet the cats all day long and they love the attention!
What to Bring
We highly recommend that you bring your pet's food. Cats and dogs can experience discomfort if their diet is changed abruptly. If your pet requires medication you should bring that as well.** We provide blankets and food bowls for all pets. For cats we provide kitty litter and litter pans. We ask that you leave oversized dog beds at home. Even the best-behaved dog will sometimes chew their belongings! We don't want their favorite things ruined!
**Fees apply for medication administration
Vaccine Requirements
We require all patients to be up-to-date with our hospital's vaccine requirements for boarding or attending daycare. This is to ensure that all pets boarding at our hospital are kept as safe as possible, including your furry friend!
Cats
Current Rabies, Distemper, and proof of a Feline Leukemia/FIV test. Negative Fecal test within a year of the stay.
Dogs
Current Rabies, Distemper/Parvo, and Bordetella (kennel cough). All daycare dogs and boarders must provide proof of a negative fecal test every year.
Ready to Make a Reservation?
The easiest way to make a reservation is to call us during business hours at (518) 346 – 2030. We will be happy to make your reservations and answer any questions you may have. We will discuss everything that you should bring with you and make sure your pet is up-to-date with all vaccine requirements.
Our Pricing*
Cats
Dogs
Weighing up to 25lbs
$34.00
Daycare while boarding is half price!
Weighing up to 25lbs
$47.90
*Prices are by the night and before tax.
Day Boarding
Need someone to watch your pet for just the day? Give us a call to set up an appointment and we can take care of the rest!
$18.60 a day (plus tax)
Day Boarding Hours
Monday & Wednesday 7:30 AM – 5:30 PM | Tues, Thurs, Fri 7:30 AM – 5:30 PM